This article explains the different components of initially setting up and editing your PARTNER CPRM survey.

In this tutorial we explain how to start designing surveys to send to your network. This includes picking a template, adding, editing & deleting questions & using skip logic.
Survey Navbar Buttons & Links
The following buttons are at the top of the survey builder page:
---
Survey Block/Section
The survey block allows you to create different sections in your survey. Within each block you can add multiple pages, questions, header text, and text blocks.
Block Number
Each survey block is labeled with a number in the top left hand corner. When a new block is added the number changes by numerical order. To add a new block, click the add block button.

Section Title
There is an editable section title that appears in each block. Click on the edit pencil icon to rename your section title and click save when finished.












Deleting Block

There is a trash can icon to delete the block located in the top right hand corner in the grey section of the block. A message will appear to confirm deleting the block which includes any pages, questions, and associated responses.


---
Creating your Survey Sections
ADDING NEW SECTIONS: To build your survey sections, in the "Add New" bar at the bottom of each section, click on the survey component you would like to add.

EDITING SECTIONS: To make edits in any section, click on the edit icon (pencil), make your edits, and click save.


DELETING SECTIONS: To delete any section, click on the delete icon (trash can).
Please note: Deleting pages and questions will remove any questions and associated responses.
---
Survey Pages
When creating a survey, adding pages may be used in multiple ways. Having questions appear on multiple pages helps prevent survey fatigue by breaking up the survey so it doesn't seem quite so long or to prevent any bias that may occur if the respondent can see future questions.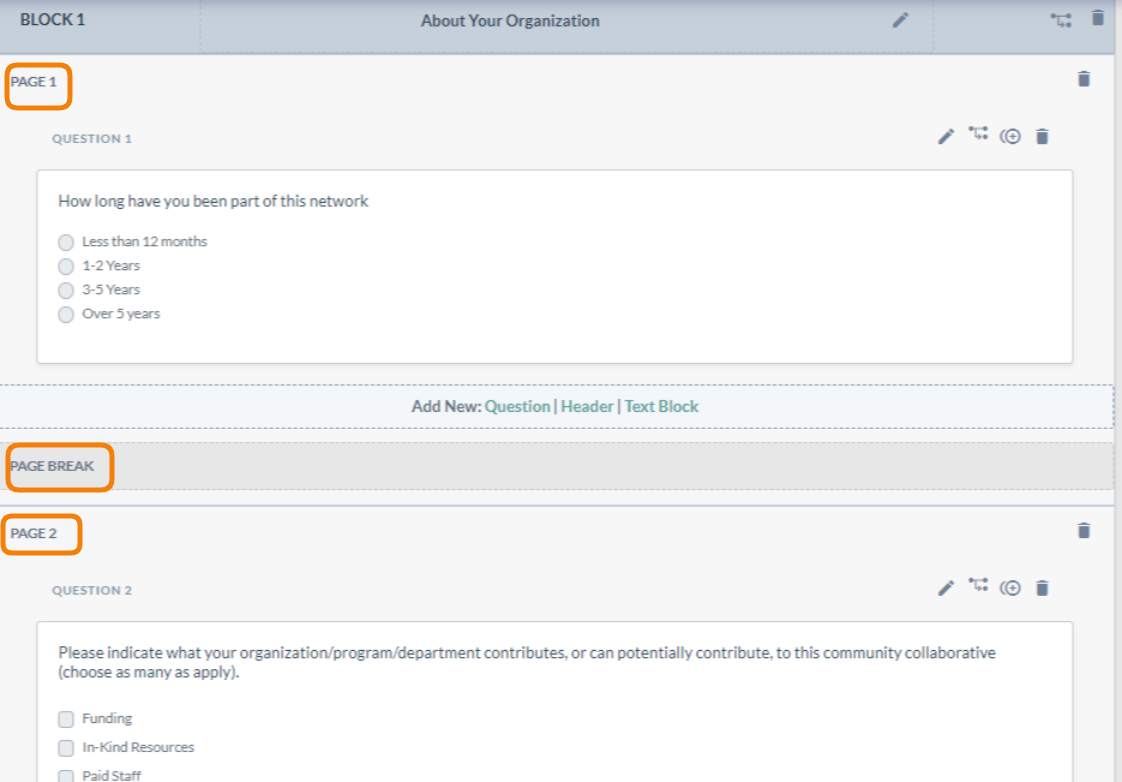 A header can be used to label or create a title for a section of your survey.

Survey Text Block

A text block can provide descriptive text such as instructions or information about the survey questions.
A text editor toolbar allows you to change the following:
Font Style (bold, italicized, underline)
Text Color
Highlight Color
Font Size
Numbered List
Bulleted List
Insert URL
Clear Formatting
---
Adding Survey Questions
This section focuses on the basics of adding a new question.
Adding New Question to Block: In the "Add New" section of the block, there is an option to add a question.




Select Question Type: A popup will appear with a dropdown button to select a question type. When clicking on "Select Question" another popup will appear with a list of different question types.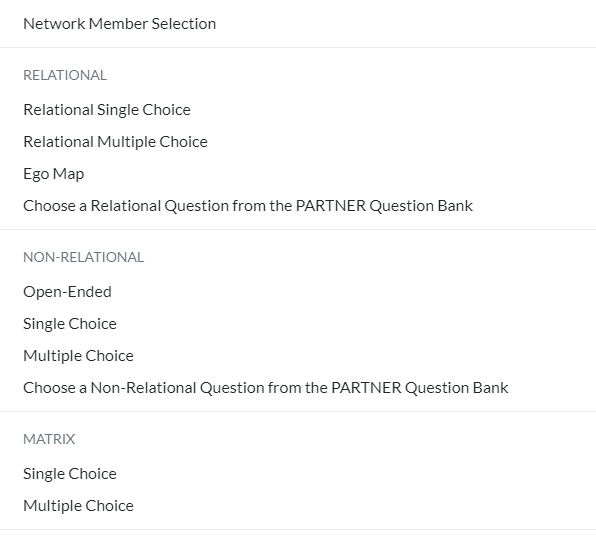 Question Text & Answer Options: When a question type is selected, a popup appears to create and format question text and select answer options. For questions with multiple response options, answer options can either be copied from other questions or custom created.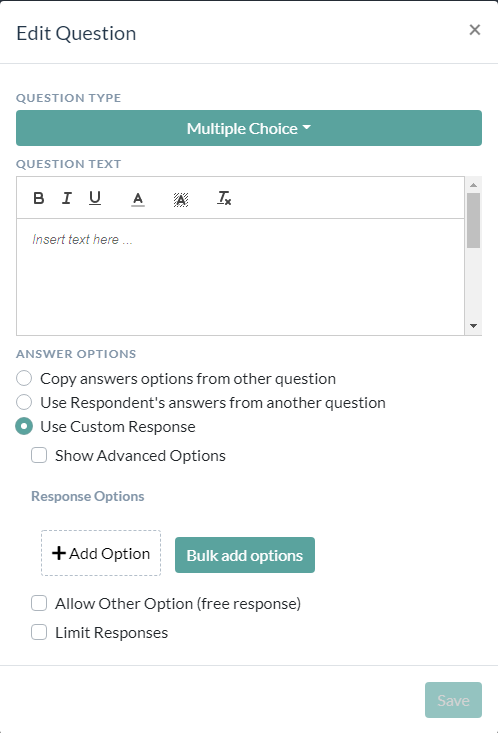 Save Question: After adding the question text and answer options, click save and the question will appear on the survey builder page. The question number appears the left hand corner and a set of editing tools in the right hand corner.